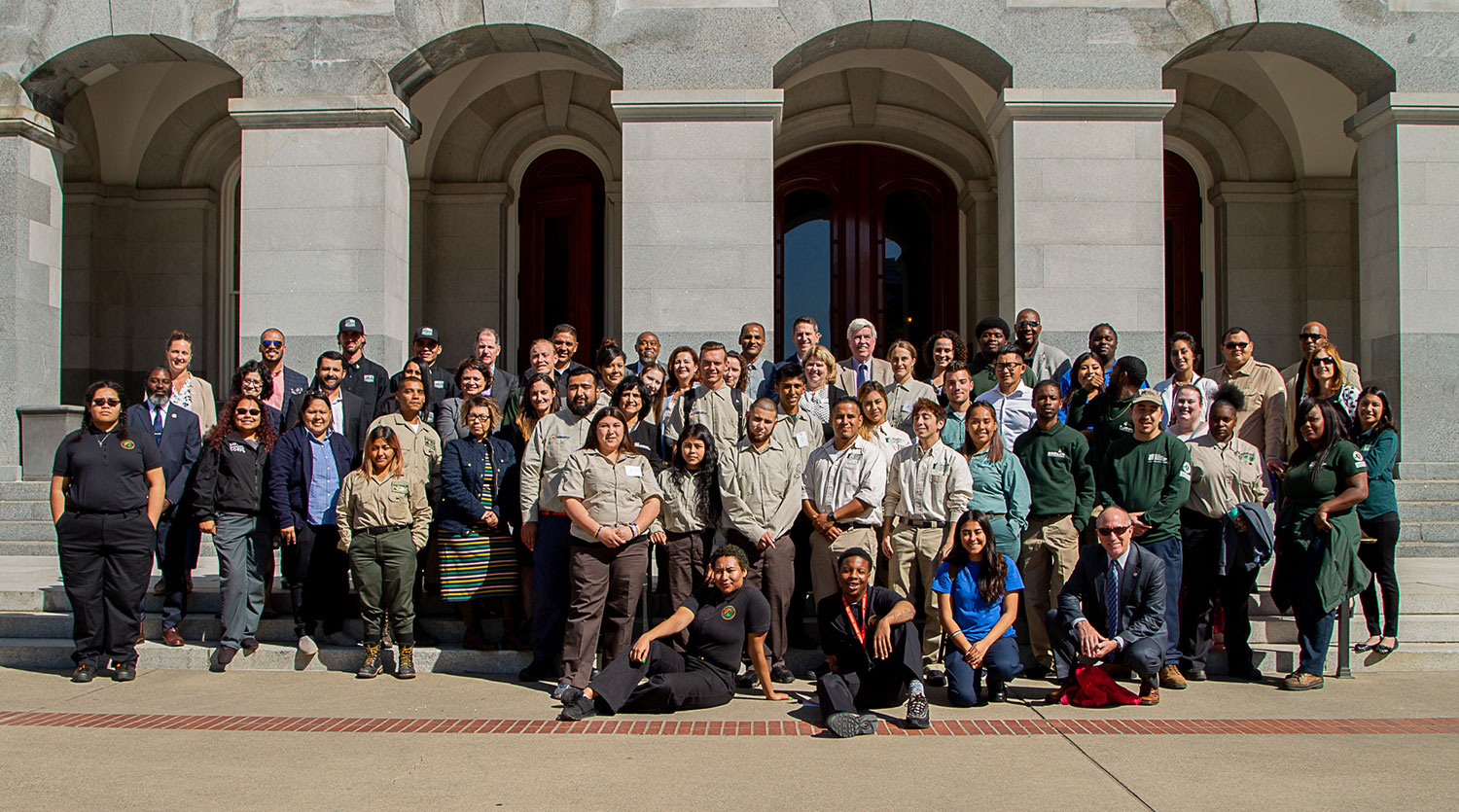 We are proud to support Government Education Day for our corpsmembers!
Every spring, CALCC sponsors a Government Education Day in Sacramento, CA.
On this day, all 14 local corps send a team of corpsmembers and leaders to the state capitol to learn about state government, meet with legislators and be the voice of their communities.
The purpose of this event is threefold: Youth from across the state get to meet each other, make personal connections and learn about opportunities in other regions. For many corpsmembers, this is their first plane trip, their first visit to Sacramento, and their first opportunity to speak to policy makers and state leaders, all of which build confidence and self-efficacy. And there's no better way for legislators to learn about the local corps mission than to hear from those most directly impacted: the youth themselves.
CALCC organizes a series of meetings with partners, like CalRecycle, and legislators who represent local corps districts. CALCC also hosts an awards reception to honor Corps Champions, leaders whose efforts have moved the local corps mission forward in California.
Watch this video to hear from corpsmembers and champions about Government Education Day, 2019
To learn more about or support CALCC's Government Education Day, please click here.
Virtual Lobby Days
In response to the pandemic, CALCC shifted to a virtual format for the annual Government Education Day in 2021. Local corps leadership and corpsmembers from up and down the state met virtually with their elected officials to talk about shared priorities, key initiatives, and – the highlight of each meeting – how corps service has impacted corpsmembers' lives and careers. Here are some snippets from those meetings:
I came in with my high school diploma, unsure of what career pathway to take. I've worked on the food rescue project – I'm very positive about this project because I see the direct impact it has on my community; we're providing 1000 pounds of food a day! I'm getting support in my career and also moving forward in my education. I've earned certifications and am able to participate in AmeriCorps, which allows me to work towards money for college.

Dulce

Corpsmember, Los Angeles Conservation Corps

If it wasn't for the LCC, I don't know where I'd be right now so I'm definitely grateful for this program.

Jordan

Corpsmember, Fresno EOC Local Conservation Corps

The Corps allows me to earn education credits while earning a paycheck. The corps has taught me so many skills I can use for my future. I learned how to use every tool out there. I have a plan for my future also. I'm about to start college to study engineering and hopefully get my general contractor's license.  I finally found the support to reach my potential.

Victor

Corpsmember, San Jose Conservation Corps + Charter School

Before I participated in the program, I wasn't really doing nothing with my life. Civicorps has been important to me to help me become a responsible person. They've opened so many doors for me in the last year and a half. I see things so differently now. I'm more responsible. They encourage me every day. I got promoted to two different positions at the Academy, which is really great.

Marina

Corpsmember, Civicorps    

I'm coming from Africa. I came here in 2015 and started Urban Corps in September. By the time I got here, I couldn't speak English, zero English. Any time I have to speak I just run away; I couldn't speak to anybody. When I got to Urban Corps, I can say this program changed my life. I came here, I started working and school, and now I just graduated. I just appreciate this program.

 

I appreciate everything you guys do for us.

Nicole

Corpsmember, Urban Corps of San Diego

The corps means to me job security and getting to help my community, two things I'm really concerned about.

Azzam

Corpsmember, Los Angeles Conservation Corps

I've learned a lot of useful job skills that will all help me move forward. I've developed a lot of hard and soft skills, and I've learned a lot about myself. I feel more supported than ever by my co-workers, who became friends, and my supervisors, who became mentors. Most of all, I know I'm making a huge difference in my community in San Jose for those who really need it.

Jacklyn

Corpsmember, San Jose Conservation Corps + Charter School

Before the corps, I was straight out of high school, not knowing what to do. Then I joined and it was life changing. They have a lot of good opportunities for us. They have career development, which helps us a lot. They help us with resumes, applications and a lot of good things. I've been doing projects like fencing, trail maintenance and recycling – we do tires, we collect cans and bottles.Now I know what I want to do with my life – I want to be a wildland fire fighter.

Briana

Corpsmember, Urban Corps of the Inland Empire

The staff, the teachers, they don't brush you off, that's what I like about LCC. They are there for you, to support you and guide you to success.

I wouldn't be where I am now if I didn't push myself to do better in my life. That's what I love about LCC – they help you. They are there for you. They will do anything they can to help you.

Gabriela

Corpsmember, Fresno EOC Local Conservation Corps

My personal goal is to get a lot of things on my resume, like forklift certification, recycling experience, and I did a lot of landscaping and e-waste jobs. So I'm building up my resume and getting my diploma so I can hopefully get a job driving a forklift.

LaShanti

Corpsmember, San Francisco Conservation Corps   

It's really nice to see a connection with the community and to know that we're making a really big difference and making things better in any way.   Being born and raised in Stockton, it brings a higher level of honor. It's my way of giving back to what I was born into, so it feels really good.

Jonah

Corpsmember, Greater Valley Conservation Corps

I think the corps is important for helping the community, teaching people who don't quite know what they want to do with their life what they can possibly do. You can learn some great skills and walk out of here feeling confident and ready for your next job…. I have dipped my toes into every government job, from public parks to the water agency. I want to be a water agency worker or a crew supervisor for the corps itself so I can teach other people how important this job is. There's nowhere else I'd rather be. I'd rather be out here helping my community than anywhere else.

Jayson

Corpsmember, Conservation Corps North Bay

After the corps, I hope to get a job in the green sector, and through the certifications and well of knowledge I've already been able to gain here through my peers, I will get the job skills I need.

Azzam

Corpsmember, Los Angeles Conservation Corps

I started here in 2016 as an AmeriCorps member fresh out of college, wondering what to do. I got promoted to supervisor, then promoted again to manager, now conservation manager. It's been a great experience watching the corps grow – we've done all kinds of projects: fuel reduction, entering new areas and new projects, always trying something new. Now we're working with the forest service directly. There are always new experiences and projects coming down the pipeline.

Angel

Conservation Manager, Urban Corps of the Inland Empire

Before I started out on this job, I was just looking for a first job to learn the fundamentals, how a job works and how to be disciplined. This job has been a golden nugget in that sense. All the programs and certifications and just the atmosphere of the job is really good. All the projects we've been doing have enhanced the community.

Jonah

Corpsmember, Greater Valley Conservation Corps

Putting on a cap and gown was a long life dream and goal that I had, and it's becoming a reality. Sometimes I gotta pinch myself and make sure I'm still here because it's overwhelming. It was a dream of mine to walk onstage and even put on that cap and gown. All that is becoming possible, thanks to the corps.

Gabriel

Orange County Conservation Corps

I decided I needed a career change and that I had to get my high school diploma, which inspired me to join Civicorps. I later joined the conservation side, and since then have worked with East Bay Municipal Utility District and East Bay Regional Parks. The corps has trained me in many tools – chainsaws, trimmers, hedgers. 

We also work on the tire recycling side. We pick up tires people dump on the side of the road. We also do some electronics recycling. Now 

I'm actually looking into going to college and studying some fire safety courses as well. 

I'm going into a career as a park ranger.

Victor

Corpsmember, Civicorps

We're part of this younger generation that is watching climate change happening before our eyes in an unprecedented way, and we're worried about our kids and future generations. We're doing this on-the-ground work for the city of San Francisco and we would definitely benefit from having more corpsmembers around.

The more we spread around, we are watched by everyone. If it succeeds in San Francisco, it will spread across the state. If it succeeds in CA, it spreads across the nation. So we want to be successful here at the corps.

Kimberly

Supervisor, San Francisco Conservation Corps

I'm working with my corps not just for myself but for my girls as well. They see me happy and doing the things I love. I want to be a good example for my girls as well.

Gabriela

Fresno EOC Local Conservation Corps

When I started at the Urban Corps I couldn't speak English. They taught me in the school. And I've been working on the environment, learning how to use all the power tools and equipment. My goal is to be a supervisor and to one day teach all the supervisors from all of my experience. I will graduate next semester, that's my plan for next year.

Manhal

Corpsmember, Urban Corps of San Diego